"I will listen to Death Cab and cry myself to sleep," Andrew Gaddy says, jokingly. But his band, D.C.'s Lighting Fires, isn't quite ready to align itself with Death Cab For Cutie's heartstring-tugging indie rock.
"There is a place for that kind of music," says Gaddy, 27. "But we are trying to do something different."
Lighting Fires calls its genre "woof rock," a name its members created to describe their amalgam of grunge, shoegaze, indie rock and dance.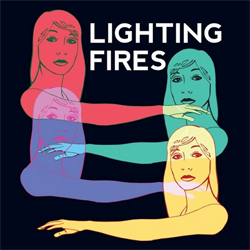 "We get loud," says guitarist Cooper Drummond, 25. "I suggest ear plugs."
The band's new single, "Summerland" (listen below) is from the band's self-produced debut EP, Friend Fiction. "About 70 percent of everything you hear was recorded in the bedroom of my apartment," says Gaddy. The last 30 percent — drums — was recorded by Mike Reina at The Brink in Centreville, Virginia.
"Summerland" pairs breathy vocals with poppy atmospherics to concoct that dreamy summer vibe. But it's the catchy guitar licks — doused in reverb — that ignite this tune.
According to lyricist Grant Skalak, 27, the song is a fictional story about joining a cult, because, well, he thought cults would be a cool thing to write about.
"We like surprising people with our lyrics. We're not trying to be super deep or political. We aren't trying to drive some message home. We just want people to listen to our music and feel good," Skalak says.
"Off the record though," Gaddy says, "we're super Marxist."
Lighting Fires plays an EP release show July 15 at Black Cat.