Lost In Decay might be the most focused work yet from D.C. post-rock band Drop Electric — and album cut "Rival Churches" has to be one of its darkest.
"We are doomed, doomed, doomed," Kristina Reznikov seethes at the track's start, giving way to a few somber piano notes. Soon there's a burst of energy as a mass of sirenlike guitars explodes, and just before the three-minute mark, a chorus chants its way into the mix. (Listen below.)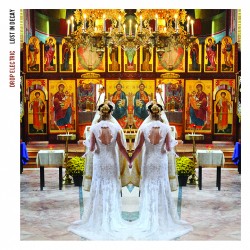 The song had more modest beginnings. "'Rival Churches' was a song that started with me on piano, just writing, messing around," says drummer Ramtin Arablouei, 32. "I brought it in to share with everyone, and they just thought that the chorus for this should be really loud."
Reznikov — who handled vocals, guitar and keys before she left Drop Electric in 2014 — says she had a thing for dramatic vocals at the time. "While we were writing Lost In Decay, I was having a good time ending tracks with choirlike vocal layers," the 27-year-old writes in an email.
To flesh out the choir, Drop Electric called in some friends. "We had a studio in our house and just brought in pizza, so we had, like, 20 people stand in a circle, and one person could hear the track and everyone is singing along with them in a group," says Arablouei, who lives in Wheaton, Maryland. "It was really powerful."
"Rival Churches" was the first song Drop Electric wrote for Lost In Decay, its crowdfunded third album, out May 26. (The band first planned to release it this week, but bumped it when Record Store Day-related delays pushed back the vinyl edition.) Recorded at the band's studio in Bethesda, the record sounds more accessible and concerned with beauty than the six-year-old band's previous material. It's intense and emotive, fleshing out its sometimes ambiguous lyrics with expansive waves of guitar, keys and thunderous percussion.
Even with occasional forays into ambiguity, the lyrics on "Rival Churches" — like other songs on the record — coax a personal narrative out of a context of oppression.
Arablouei says the album's lyrics speak to Reznikov's experiences as a lesbian who attended Catholic school and the "challenges it posed for her identity." (After Reznikov left the band, Anya Mizani stepped in on vocals, guitar and keys.) They go hand in hand with the band's larger objective not just to criticize powerful institutions, but to look at how they change people.
"It's not just a matter of being angry at the big other," Arablouei says. "It's about what [impact] these things, these societal issues and pressures…have had on our lives."
Drop Electric plays an album release show May 16 at Artisphere.