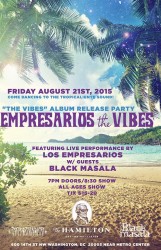 D.C. ensemble The Empresarios calls itself "Tropicaliente," a portmanteau that sums up the band's circum-Atlantic sound. The group specializes in an amalgam of Caribbean music, stirring together salsa, cumbia, reggae and dub.
The Empresarios release their newest album, The Vibes, on Sept. 25 — right before their appearance at the massive Landmark Music Festival in D.C. But the band is celebrating early. Friday, Aug. 21, The Empresarios play an album release gig at The Hamilton downtown, and they've got a new mix to get fans in the proper zone.
The mix is called "Tropicaliente Vibes," and it includes songs from The Empresarios' new record, plus a bunch of goodies spanning multiple decades, styles and nations including Cuba, Puerto Rico, Brazil, the U.K. and the U.S.
Peep the fiery track list and stream "Tropicaliente Vibes" below.
The Empresarios play Aug. 21 at The Hamilton with Black Masala. The group also performs at the Landmark Music Festival, taking place in West Potomac Park Sept. 26 to 27.
Track list:
Orlandivo, "Onde Anda A Meu Amor"
Cubanito, "Por Un Milagro"
Tego Calderon, "Cancion de Hamaca"
Empresarios, "The Vibes"
Ranking Toyan, "How The West Was Won"
Empresarios, "Rompan Fila (G-Flux Remix)"
Cachao, "A Gozar Con Mi Combo"
Roberto Roena, "Take Five"
Empresarios, "Rootsy Jam"
Empresarios, "Salsoul" featuring Salsaley Orquestra
Daddy Yankee, "Sígueme y Te Sigo"
Afro Cuban Band featuring Big Boi, "Something's Gotta Give (Relative Funk Remix)"
Empresarios, "No Vamos A Parar"
Superpendejos, "La Princesa de la Cumbia (Fort Knox Five Remix)"
Wara, "Pretty Cliche (Makala Remix)"
Cut Chemist, "Mas Pan (DJ Day Remix)"
Empresarios, "Morena"
Empresarios, "Encanto"
Quantic and His Combo Barbaro, "Un Canto A Mi Terra (J Boogie Remix)"
Empresarios present Tropicaliente Vibes by Fort Knox on Mixcloud