With influences that span Marvin Gaye, Jimi Hendrix, Pink Floyd, Mos Def and Curtis Mayfield, Maryland ensemble The New Retro has just released a polished album in which soul and hip-hop mingle with pop. But above all, there's the funk.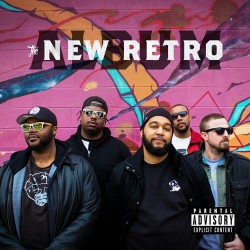 "It had to be funky because that's who we are. It had to be soulful, because that's what these vocals do," says founding member Enoch "EL Bassface" Rowe, 27, who plays bass. "We wanted to showcase the hip-hop element that we have," brought to the group by lyricists Samuel "Samu-L" Chafin (who also plays keys) and Chris "The General" Henri.
The New Retro's core members have been playing together for about a decade, and the College Park-based band put out a live album in 2009 and a mixtape in 2013. But The New Retro Album — released July 4 — is its formal debut. The LP ties together years of the ensemble's melodies and moods, focusing on simmering jams but occasionally picking up the pace, like on party rocker "Two Step."
Album opener "Flair" (listen below) is the youngest of the bunch, recorded about a year ago — and its name signifies a certain je ne sais quoi.
"Flair is like when you see that girl and there's something there that wasn't there before," says vocalist Aubrey "Che" Adams, 28. "It's just one of those things you can't describe."
Asked if the tune is inspired by a certain woman, the band laughs and says, hesitatingly, that it's more about an overall vibe.
The New Retro tries to write about things that are hard to put into words.
"Some of the verses we've written five or 10 minutes before the recording because that's when I felt the mood and I could hear everything the way it's supposed to be heard," Adams says.
While The New Retro Album is the band's most focused effort to date, its sound continues to sprout new branches.
"As long as we've been together, things evolve and change," Adams says. "So our sound is always going to keep progressing. We sound a little bit better than we used to, every time."
The New Retro plays July 9 at Metropolitan Kitchen in Annapolis and July 25 at Rams Head Live in Baltimore.