More Humans plays the long game. The D.C.-area indie-rock band doesn't record, gig or even tweet that much. But over the last 10 years, More Humans has been slowly turning into one of the region's best rock bands.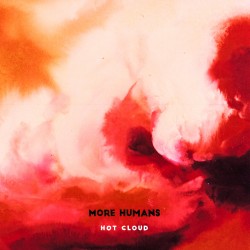 The evidence is all over the group's new album, Hot Cloud, out today (stream it below). The followup to 2011's Demon Station, it's as lyrically tricky and contemplative as More Humans has ever been, but musically, the album leaves open many doors.
Guitarist and vocalist Clinton Doggett says the band wanted to make Hot Cloud "the kind of record that people can have a lot of entry points into."
To get there, More Humans decided it was time to go bigger. They added a bass player — longtime friend Nick Anderson — and Doggett now plays electric guitar.
"We had exhausted the [old] format," says Doggett, 32. "When people saw [the acoustic guitar], they kind of typecast us in some ways, even though we played at a pretty crazy volume." Plus, he says, they just wanted more to work with. "There's only so much you can do with that instrument. Making the shift — in terms of the style of playing and different gadgets you can play with — was enticing to us."
On Hot Cloud, satisfying melodies seep out of each song, with traces of Pinback, XTC and Teenage Fanclub throughout. But it's still a bit of a jigsaw puzzle, with the brains of D.C. bands Beauty Pill, Faraquet and Jawbox. (No surprise, Beauty Pill's Chad Clark produced Hot Cloud, and More Humans recorded largely at Magpie Cage, the studio owned by Jawbox's J. Robbins.)
"Be patient with [the album]," says guitarist and singer Marko Sonevytsky, 32. "The first part of a song may seem odd or unusual, but by the end, we hope that people will understand why we did that."
More Humans plays Nov. 15 with Passing Phases at Galaxy Hut. Hot Cloud is available on Bandcamp, iTunes and Spotify. Vinyl release scheduled for 2016.
Recommended songs: "Big Day," "Frozen Lightning," "Said Bird," "Sinkhole"