If it's possible for an album about vampires and creepy teens to be considered delightfully old school, then Don't Deliver Us by Satan's Satyrs definitely qualifies.
The fuzz-rock trio's third LP — released in the fall and generally well-received by fans and critics — sounds like it could have come out in 1974, with crushing guitar riffs, groovy drums and howling vocals.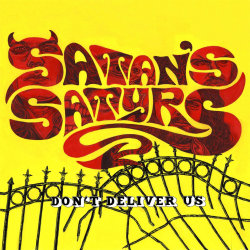 That said, bass player and vocalist Clayton Burgess is quick to point out that the band from Herndon, Virginia, isn't trying to recreate the past.
"It's not about being retro, it's not about ripping off Sabbath riffs or replicating anything that happened," Burgess says. "We have the gift of retrospection — so much to pull from and go forward with — and I don't want to just rehash the past."
This approach has led to three records unlike anything else coming from the D.C. area: classic doom-metal noise infused with the energy of '80s punk and wrapped in the macabre aesthetic of horror flicks.
Burgess notes that the horror influence is much more apparent on early Satan's Satyrs records, particularly 2012's Wild Beyond Belief. "In the beginning of the band," he says, "I think it was kind of the totality of the lyrical content — that was the subject matter — whereas now I just feel like it kind of colors the lyrics, acting as my secret ingredient."
On "Alucard," the sixth track on Wild Beyond Belief, Burgess bellows, "Archetype of evil dispatched on city streets / Creep in the cathedral, in a casket sleep / Does the fire in my eyes betray my groovy guise? / Stare a little deeper, you're hypnotized," channeling visions and revisions of Bram Stoker's iconic blood sucker.
But Satan's Satyrs is not a horror-metal band. "We're not The Misfits," Burgess says. "It just comes out because it's kind of my personality. I tried to write a love song and it ended up being about Dracula." That doesn't mean that things are all doom and gloom, either, and Burgess says he wants his lyrics to serve as an escape for his listeners.
"I like a little bit of whimsy and fantasy in my music," he says. "I don't want it to be just like a [Ronnie James] Dio record which is purely fantasy, but I want to reflect things that I've experienced in my lyrics and then let them take on a new life and paint them with this sort of fantastical palette."
"I tried to write a love song and it ended up being about Dracula." — Clayton Burgess of Satan's Satyrs
In a lot of ways, that approach is the defining trait of Satan's Satyrs — the music is simply fun to listen to. It's larger than life, aggressive and a little bit silly, which is refreshing in an era when so many metal acts take themselves too seriously.
"We're at a stage here where music is so compartmentalized it's ridiculous," Burgess says, "and it's not reaching out to people, it's reaching out to niches. I want my music to be honest, I want it to have nothing to lose, and hell yeah, I want it to be accessible."
In a lot of ways, then, Satan's Satyrs' sound is a direct reflection of the band's rise from a solo project to being invited to play the 2013 Roadburn Festival by British doom-metal legends Electric Wizard — with whom Burgess currently plays bass and Satan's Satyrs has toured — all thanks to an unsolicited demo he sent them in 2010.
"It's just really cool to know that doing something like that — mailing a demo tape unsolicited has changed my life," Burgess says. "So life can be a bit mysterious sometimes."