Warning: Explicit lyrics.
It's easy to call Kane Mayfield a "rappity-rap" lyricist if you're not paying attention.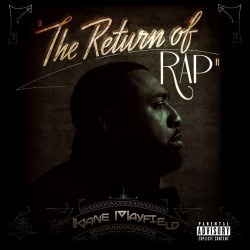 A big guy with New York City bravado, the Long Island native embodies the "golden era" of hip-hop, when complex lyrics mattered more than booming beats. Kane's got rhymes for days, but on his new album, The Return of Rap, the Baltimore resident backs off the music and lets it breathe. Mayfield's discussing heavy themes — child labor, racial disparities and socioeconomic struggles — yet he calmly unpacks the narrative.
On "Cars Jewels Clothes" in particular, Kane takes a tongue-in-cheek look at worn rap themes, using a slurred cadence to chide "trap rap."
"See n****s like when you rap like thiiis, on a track like piiimp," Kane rhymes. The hook is a straightforward diss to the subgenre: "Cars? Check. Misogyny? Check. Gold like a n****a hit the lottery? Check. That's all ya need, so my song's complete. This is rap, right, so what you expect?"
The song sounds like a radio single, but it's really a parody, Kane says. "It's a poke in the eye of the mainstream-sounding stuff," he tells Bandwidth. "It's like, 'You're on hold with unemployment, but hey, I'm balling!' That's all we wanna hear about, but there's more to life than that."
"Cars Jewels Clothes" is one of the lighter tracks on his thematic new album. "It gives the listeners a break," Kane says. "The message is still there, you just gotta dig a little harder to hear it."
Still, Kane says he was afraid to release the LP due to its heavy messages. Much like Kendrick Lamar does on To Pimp A Butterfly, Kane examines his own shortcomings on The Return of Rap to offer a complete self-portrait.
"I don't wear jewelry," Kane says, half joking. "I'm devoid of stunting. I think we shouldn't eat meat, but I really like steak. I really like the taste of chicken. I'm a hypocrite."