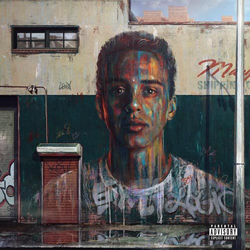 Logic—the Maryland rapper who broke out last year after landing on XXL's Freshman cover and quickly inking a deal with one of the world's biggest hip-hop labels—dropped his debut full-length on Def Jam today. The album, Under Pressure, is already rocketing up iTunes' charts, no doubt fueled by his passionate throng of fans.
Meanwhile, MTV published a mini-documentary about Logic today: It tells the story of how the 24-year-old rapper (named Sir Robert Bryson Hall) came up in a tough environment, reared in Gaithersburg by two drug-addicted parents, then was taken under the wing of godmother Mary Jo LaFrance. Both Logic's dad and Mary Jo make appearances in the short film.
Among Logic fans, the artist's life story might not be news: He frequently rhymes about his childhood, alluding to abuse and hardship endured from a young age.
"One of my earliest memories… was of my dad, and he took me to D.C., and he picked up some chick and they went into this complex and he left me in the car for like, six hours. I was about 5 years old," Logic says in the short film. "So I'm sure they were like, fooling around and doing drugs and smoking and stuff like that."
Logic's father, Bobby Hall, says in the film that he was never "shown how to be a father."
Watch the mini-documentary and stream Under Pressure below.
Warning: Explicit lyrics.