On July 10 in Brooklyn, noise-rock guitarist and writer Chris Grier died at home from a pulmonary embolism. Four-and-a-half hours south on I-95, his death reverberated here in D.C., where Grier had made a ruckus with various musicians for many years, often on the upstairs stage at Velvet Lounge. Now the U Street dive is getting ready to host its final Chris Grier performance, in a way, when his friends play a memorial at the venue Friday night.
Drummer Scott Verrastro—who used to book the venue—is helping organize the event on Friday. "As Chris would have preferred, we're going to have a big ol' rock 'n' roll blowout to commemorate his life," Verrastro writes in an email.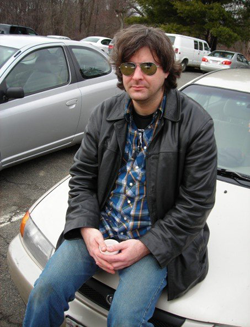 Verrastro and Grier played Velvet Lounge dozens of times starting in 2007, Verrastro writes. They teamed up in the ensembles Thee Ultimate Vag and Kohoutek. Grier also played for four years with the experimental collective To Live And Shave In L.A., often alongside Andrew W.K. and Thurston Moore.
W.K. wrote this heartfelt statement after Grier's death:
When I first met Chris, it was on tour with To Live and Shave In LA. I was playing keyboard in the band and all I was told was that Chris was a newspaper writer from Washington D.C. who would also be performing with us. I guess I was kind of wary and shy of him at first. I somehow thought I wouldn't get along with him. Turned out he was one of the most sincere, earnest, and devoted musicians I would ever have the privilege of playing with. He was a deeply great guitar player—an extremely advanced and attuned musician. He was great in that unassuming way that reveals itself from the inside out—from the sound of his playing, from the way it felt to hear his sound.

In the best way, all Chris really cared about was music. Probably one of only a handful of people who really lived their life for music and was brave enough to pursue it. And he pulled it off! He was playing constantly. He made big moves and sacrificed a lot to play music as much as he possibly could, often against the odds, and often due to his sheer tenacity and undeniable ability. When people ask what it means to be a successful musician, Chris really defines it for me—to play as much music as you can and with everything you have.
Kohoutek, Max Ochs, Rat Bastard, Insect Factory and Layne Garrett are scheduled to perform at the event Friday. Verrastro says donations can be made to the Chris Grier Memorial Music Fund, which will help pay for music supplies and instruments for students in the Charles County public schools system. ("Stooges records accepted as well," he adds.)
"If you knew Chris or were inspired by his art, please attend and share stories, laughs and memories," Verrastro writes. "There are many."
The Chris Grier Memorial concert takes place 8 p.m. Friday, Aug. 29 at Velvet Lounge. Admission $8. Donations to the memorial fund can be sent to Chris Grier Memorial Music Fund, Charles County Public Schools, P.O. Box 2770, La Plata, MD, 20646. 
Top photo via the memorial's Facebook event page; lower photo by Ally Schweitzer