Maurice Sendack's children's book In the Night Kitchen inspired Silver Spring indie-rock outfit Night Kitchen — both in name and culinary theme. For proof, look to the band's chosen descriptors on Bandcamp: It calls itself "foodwave" and "preheat."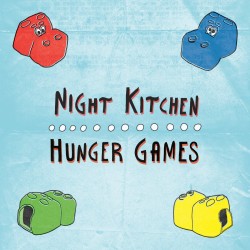 The book is "about a kid who keeps dreaming that he's flying through a night kitchen with these chefs who try to bake him into a cake," says vocalist and guitarist Jordan Levine. "I read it when I was a kid."
Levine and Night Kitchen drummer Emmett Parks met in elementary school. Now 19 and 20, they have a bassist (Wyatt Rexach), a new EP and — as made clear in one of their new songs, "Vertical" (listen below) — an informed opinion on what "local" is starting to look like. (Let it rise. Bake. Share with coworkers.)
The final track on Hunger Games, released June 4, "Vertical" requires an attentive listen. "I'm talking about urban development changing the way things look, especially in areas outside of D.C," Levine says. His lyrics speak to the theme: "They take what they want to, not what they need. All the same, they help themselves."
The track sounds hungry for answers, and Night Kitchen isn't the only one ordering them up. Other D.C. bands — including Chain & the Gang — have railed against gentrification in the Washington region.
But Levine hasn't lost all hope.
"The DIY scene has really built up over the past five years," the musician says. "There are people [from Maryland] who'll travel to D.C. for a show… and vice versa, so it's a lot of the same people. I think the growing DIY scene has made it cool and communal for people to support live music, which is good for music in general."
It's that optimism that prevents "Vertical" from succumbing to a bitter aftertaste.
Night Kitchen performs July 8 at VFW Post 350 in Takoma Park and July 15 at DC9.