As the sun dipped behind the Fort Reno towers on a July evening, John Scharbach pounced around the grass, jumping in and out of a Frisbee game. From a distance, he looked like your standard campus disc thrower: He wore sweat shorts, a baggy tee and a Nirvana trucker cap that restrained a tangle of long blond hair. If someone said Scharbach played on a college Ultimate team, you would have shrugged. Sure he does.
Ten minutes later, Scharbach swapped the frisbee for a microphone. He bounded onstage, pumped up to play D.C.'s Fort Reno summer concert series for the third time with his group, GIVE, D.C.'s most boundary-pushing hardcore band. It would be another three months before the band released its debut LP, Electric Flower Circus.
After ample time in the studio, a wait at the pressing plant and many dollars spent, that record finally arrived today. (Stream it below.)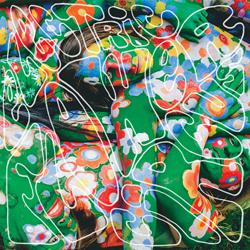 In a scene that tends to adhere to a dress code of jorts and black T-shirts, GIVE is all sportswear and trainers, sometimes even Oxfords and selvedge denim. Its sound lives outside of the confines of D.C. hardcore, too: The five-piece skirts the classic faster-louder formula, referencing '90s alt-rock just as often as it borrows from early Dischord.
Scharbach says he would be proud to say GIVE springs from D.C.'s rich punk heritage. But part of the band's aesthetic seems inherited from Haight-Ashbury instead of the District. Its art and song titles emit a whiff of patchouli: A white flower logo adorns its 7-inch singles, which come with names like "I Am Love," "Flowerhead" and "Petal Pushing." Electric Flower Circus looks utterly psychedelic. No stern faces and black X's here.
"In the hardcore punk scene we came up in, the imagery was a lot darker," Scharbach says. But he felt drawn to more positive symbols, like the flowers of the paisley 1960s and Britpop 1990s. That imagery became "a floral foundation we just built off of," he says. "Flowers became our thing."
"In the hardcore punk scene we came up in, the imagery was a lot darker," says GIVE vocalist John Scharbach. "Flowers became our thing."
In a city both enriched and constrained by its legendary hardcore scene, GIVE seems respectful of the past, but not handcuffed to it. The 13-song Electric Flower Circus aims to further stretch its oeuvre—and the limits of hardcore.
The record won't sound unrecognizable to fans; it still weds the pounding pace of Fugazi-bred hardcore with a little Lungfish and the band's other myriad influences. But this time, the guitars sounds cleaner, and Scharbach does, too, in a way: he sings more and growls less. Some moments on the album even enter dancey territory. The frontman says that from his close vantage point, it's tough to identify what's different on this record. But eventually he describes Electric Flower Circus as "more rock-and-rollish" compared to the band's previous stuff.
GIVE's sound isn't the only thing getting a rethink on Electric Flower Circus: The LP also marks the band's return to self-publishing after a string of rendezvouses with other labels. GIVE dropped the full-length on its own imprint—the appropriately crunchy-sounding Moonflower Records, which only has one prior release: the band's 2009 12-inch of demo recordings. After that EP, GIVE dropped five 7-inch singles on five labels, all run by the band's friends in the scene.
Not that GIVE is done with other shops. In fact, it's now collaborating with two of the heftiest labels it's worked with yet. Big-deal hardcore label Revelation Records plans to release Sonic Bloom, a five-song GIVE EP, which the band recorded and mastered at legendary Arlington studio Inner Ear over the summer. Then there's its single due out on top Boston hardcore imprint Lockin' Out. Both releases, expected to come out this year, will include material from GIVE's full-length as well as some exclusive songs.
Working with big hardcore indies hasn't always interested GIVE. The band says it was approached by some in the past, but they never felt like a good fit. For one of the most eclectic bands in hardcore, hopping on a label with a bunch of other hardcore acts didn't seem ideal. "We never wanted to be boxed in like that," Scharbach says.
"We don't want our band to be on iPhone cases," says GIVE drummer Gene Melkisethian. "We don't want our band to be a product."
Plus, some of those bigger labels could have pushed GIVE in a more commercial direction, which the five-piece has never felt comfortable with, according to drummer Gene Melkisethian. "We don't want our band to be on iPhone cases," he says. "We don't want our band to be a product."
Revelation and Lockin' Out seemed different. Melkisethian says he's known the folks who run Lockin' Out for years, and Revelation's distribution network and name recognition made it hard to pass up. But GIVE didn't want to put its LP in anyone else's hands. For that, they wanted creative and financial control. "We knew that if we financed it, we could put more money into it than a label would," Melkisethian says.
Besides, the band sold about 1,200 copies of its self-released 2009 EP, and they felt confident they could do it again. Electric Flower Circus hasn't been cheap—when we talked over the summer, GIVE had spent about $5,000 on the record, most of it earned from touring—but the creative and economic freedom that comes with going DIY seems worth the money, Melkisethian says.
"That's kind of the tradition in D.C.," says the drummer. "We think it's a good thing."
Warning: Explicit lyrics.