After private meetings and public protests, developers say they've made conciliatory changes to the proposed redevelopment of the Union Arts music and arts space in Northeast D.C.
But that didn't stop artists who oppose any development from filling a zoning commission hearing Tuesday, in the second public demonstration against the project, which proposes to turn the creative space into a boutique hotel with arts studios.
Over more than four hours, artists and allies spoke of the building at 411 New York Ave. NE as a "haven" for culture in Washington, unmatched anywhere else in the city.
"I think [the development is] a big step backwards," said Julia Bloom, a visual artist who said she has worked in the building for nine years.
The facility's new owners, developers D.B. Lee Development, Inc. Construction and Brook Rose Development, LLC, say they've tweaked their blueprints in response to protests, expanding space for arts and music in the planned hotel. But they claim to need a zoning change to make that happen. Without it, developers say, they can't expand the building to 11 stories, and that limits the amount of space they can dedicate to artists and musicians.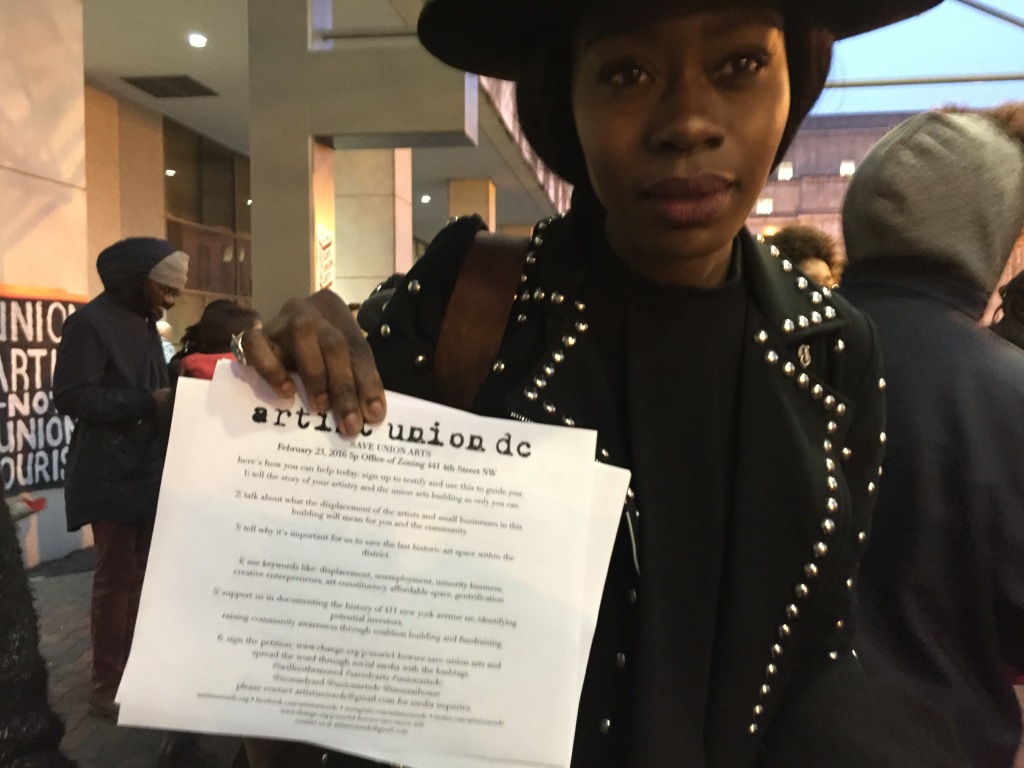 Union Arts tenant Desirée Venn Frederic at Tuesday night's demonstration (James Doubek/WAMU)
Since the first zoning hearing Feb. 1, developers and Union Arts tenants have convened twice with the hope of finding common ground. At meetings on Feb. 8 and 16, tenants presented "an alternative plan that focused on the preservation of the building in its current state," says Shannon Lewthwaite, a partner in Nomad Yard Collectiv, a vintage shop in the building. Lewthwaite says more work needs to be done on their proposal, but it would "essentially revitaliz[e] it to better utilize the space and make it more financially viable, with all of the current tenants in mind."
Lewthwaite says the developers seemed receptive, but skeptical of the plan's financial viability.
Meanwhile, developers say they made changes to the initial plans after hearing artists' concerns. Dennis Lee, president of D.B. Lee Development, says artists were particularly worried about initial plans that would not have given artists enough privacy and ran the risk of pitting musicians against noise-averse hotel guests.
New plans dated Feb. 18 add three arts studios with an additional 2,000 square feet of studio space, and studios have been repositioned to add privacy, Lee says. They also add a soundproofed music studio on the first floor lower level, "isolated from the rest of the hotel rooms where guests would be sleeping."
A proposal not included on drawings — but discussed between parties — involves giving artists complete control of the hotel's third floor, with 11,000 square feet of space. However, artists would be responsible for raising $1 million to sign a lease on the space.
One matter of contention has been the total square footage of arts space in the building. Current tenants put that number at about 30,000 square feet, and have said developers would only dedicate 3,000 square feet to art studio space. But Lee says it's important to include exhibition and gallery space in that number. If exhibition and gallery space are included, revised plans put the new figure at 19,090 square feet for art and music. Artist studio space alone would total 3,443 square feet and the music studio would be 746 square feet.
"We've tried to improve [the plan] as best we can within our own confines," Lee says.
Artists say Union Arts' planned redevelopment is part of a larger gentrification wave that has displaced creatives and low-income residents in general. But in this instance, developers are trying to incorporate arts into the new vision.
Lee says developers became attracted to the idea of an arts hotel because of the building's proximity to culinary hub Union Market.
"It was sort of the vibe at Union Market and what was happening in the building that gave us that influence," Lee says. He says adding an arts program to the hotel offers him no economic incentive, because the arts space would be subsidized by developers.
Faced with opposition from Union Arts tenants on social media, Lee said Tuesday he's become frustrated by what he considers misinformation.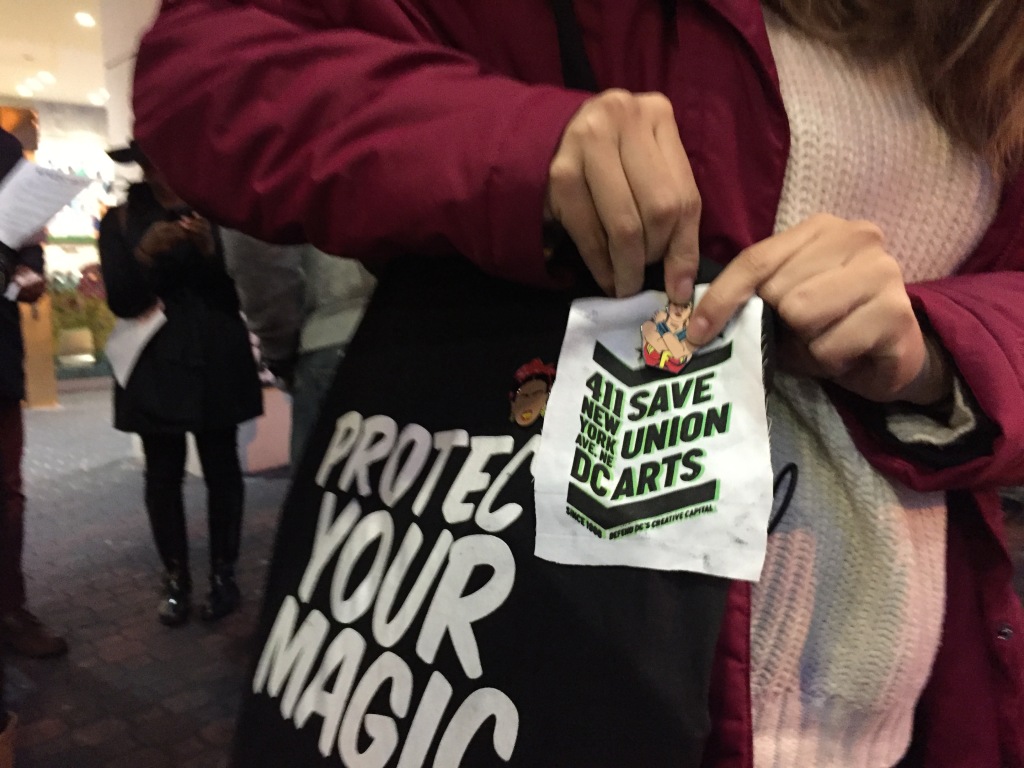 (James Doubek/WAMU)
Tenants have organized letter-writing campaigns to city government and testified in support of Union Arts' importance in their lives. But having the building continue in its current capacity may not be economically viable. The building's previous owner said tenants weren't paying enough in rent to cover even the cost of property taxes.
Gaje Jones, who runs MOUSAi House, an art and music space within Union Arts, admits as much. But he says it's possible to make art spaces like Union Arts financially sound, perhaps through an education program.
"Just adding up all the years of how many people in here have taught, how many artists we have in here, it's over 1,000 years of intellectual property that this building has," Jones says, "and that is something that is marketable."
But the specific question for the zoning board is whether to rezone the building to allow the expansion developers want.
"We could go in there and we could build a hotel right now," Lee says.
The developer contends that those who oppose rezoning are working against themselves.
"Without the zoning enhancement, there's no economic viability for this arts program being in that building. You need that zoning enhancement to be able to provide this subsidized arts space," Lee says. He adds that other developers may have chosen to forgo the arts entirely. Lee wouldn't speculate when asked what he would do if the zoning commission denied the application.
Many of Union Arts' tenants remain undeterred.
"We do believe that it's realistic for them to keep the space as it is, given the historical significance of the building," Lewthwaite says. She says some tenants want to bring in private partners to continue the building's use in its current form, or hope for the city government to step in and form a public-private partnership with developers.
Most of the 32 artists and supporters who testified Tuesday evening emphasized their strong opposition to the hotel project. But Mike Abrams, who founded Union Arts in 2013, struck a diplomatic note in his testimony.
"I saw a tremendous willingness by D.B. Lee and Brook Rose to try and do something here. They went from not having any studios, to putting in studios, putting in gallery space, putting in drawing areas, meeting rooms, [a] classroom area," Abrams said.
"I don't really think they're bad guys. I never thought they were bad guys," says Jones. "Our fight's not actually with these developers. Our fight's really with the city. Because when it comes down to it, the city's the one responsible for the continuous displacement of the art class."
Seven people have signed up to continue public testimony March 16.