Dana Murphy has a way of debunking preconceived notions about feminist DIY. That—as well as offering well-curated and diverse shows—is what she does with her Baltimore-based booking and promotions company, Unregistered Nurse. Fresh off a Best of Baltimore win for this summer's Ladyfest music festival, Murphy has got to be working with more than good luck.
Murphy, 28, is now in the process of producing the third annual U+NFest, which starts tomorrow at Baltimore's Ottobar. For the event, she and her booking partners roped in a couple of D.C.'s best-loved bands (Chain & the Gang, Give) in addition to weighty acts from Baltimore and elsewhere (Screaming Females, Nothing, Ed Schrader's Music Beat), plus a highly anticipated punk drag show.
Before U+NFest's kickoff, Bandwidth chatted with Murphy about five years of booking in a small town, aiming for diversity and dealing with sexism in the business.
Bandwidth: How long have you been booking, and why Baltimore?
Dana Murphy: Unregistered Nurse started over five years ago at this point. It sort of started by accident; I started booking the occasional show and it just grew. Why do I want to do it in Baltimore? It's an interesting city in that it's had a lot of good music scenes, but it doesn't have a strong garage and punk presence. It could have more of that, and that's a lot of what I specialize in.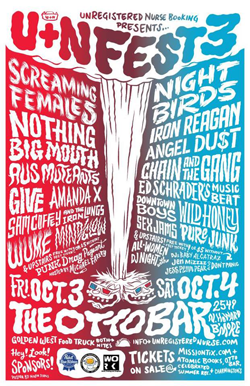 Do you have a set mantra or mission you adhere to when choosing which bands or venues to work with?
It's really important to me to pick venues that I feel I can trust, that I feel the people who own them care about what's going on. That's the big difference between being an independent promoter as opposed to an in-house promoter, because you need the venues to take care of you. If you're not attached to one place, people are less inclined to care.
How would your approach change if you were booking in D.C.?
D.C. is a much larger town, so I think it would be a little easier to get people out. Because Baltimore is small, you have to work a little harder. Hanging flyers, rallying people.
It seems like over the years you've built a strong base of support, and we've seen that with the success of Ladyfest and the return of U+NFest.
It's grown a lot. I remember when I did my first few shows, there'd be five people there, and I'd text my friends and beg them to come check out these bands. I think people have become more interested in different kinds of music. I was really surprised at the great turnout we had at Ladyfest. That was our first time doing it, so we weren't really sure what to expect. I think U+NFest has been growing. All fests are trial and error, especially when you're DIY. There's no template for how you're doing it. You keep experimenting to figure out, "What do people like? What do people not like?" That kind of thing.
"I want people to look at our shows and say, 'These are good shows. Period.' Not 'These are good shows, for some girls.'"
When did you go from booking a few shows at a few venues a month, to launching a festival? How does one go about putting together their first festival?
It was something I had always really wanted to do, but it was really important to me to approach the idea of a festival in a DIY way that incorporated punk and other kinds of music, and was interesting and well-curated, and not just a bunch of white dudes. You know what I mean? There's a fest I really like that I went to three or four years ago, and my friends' all-girl band played. And it was like, "Oh look, we're the only girl band on this entire bill, and nobody cares about us." And I thought it was a terrible feeling for them.
I wanted to do my own fest but make sure it represented bands that I relate to more. Keep it interesting, change it up. I used to do these birthday shows that did really well. One year it was Pissed Jeans and a bunch of drag queens at The Golden West. People asked, "How are you going to top this?" and I said, "I can't. I'm not even going to try." But two years later I decided to start doing this fest.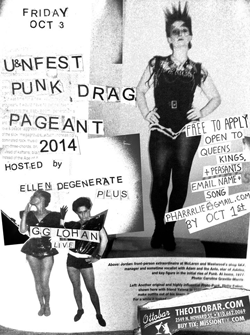 Now U+NFest is approaching its third year and now has its own drag show. How did a drag scene—or interest in drag—emerge from Baltimore's punk and garage scenes?
I've always been really interested in drag culture. I think the people doing it are doing an interesting and unique thing that challenges people and what they think. Mike Farley does a really cool Rough Trade night at the Sidebar, but he incorporates different kinds of music and people are there selling zines—it's an interesting and diverse thing that I feel no one else is doing right now. I told him I'd love for him to be a part of [U+NFest] because I'm interested in stuff that represents different perspectives, and I certainly don't think that I could represent drag culture in any way.
People hear "female-run booking company" and they have an idea of what that means. But none of your shows or events I've ever attended have been explicitly "feminist events." The lineups are always all-inclusive.
I'm really glad to hear you say that, because that's always been the point. I want people to look at our shows and say, "These are good shows. Period." Not "These are good shows, for some girls." You can be a feminist and still like music that's outside of that. Being a feminist is who I am, but I'm also a person that likes different kinds of music. I don't only book feminist bands.
You have Screaming Females and Iron Reagan on the same flyer.
I think having Downtown Boys and Angel Du$t is the most interesting part. Angel Du$t are playing right after Chain & the Gang, which is going to be an incredible contrast I'm really excited for.
How much collaboration is there between yourself and the bands you book?
One of the advantages of having a DIY booker do your show is that you should be able to communicate. I don't like viewing bands as rock stars you should idolize, nor do I like viewing promoters as the boss that's going to tell you what to do and how it is. Those things should be leveled out. I always want the bands' input, and I always want feedback.
"Being a woman, you get this mansplain-y kind of, 'You know, when you book shows, you're really supposed to do this.' Dude, there's no template."
Did you imagine you'd be booking the third year of U+NFest at this point? Did you think you'd be booking for this long? How do you make this sustainable?
I started Unregistered Nurse because I was booking a show and someone asked, "What's the name of your booking company?" And we had just had a conversation the night before about this name. "It's, uh, Unregistered Nurse Booking." I just pulled it out of thin air. It was never really my intention to expand at all. I was just doing the occasional show.
And now you're doing how many a month?
I'm sort of taking a break right now. This is my second fest in six months, and I was on tour [with a band] for six weeks. Trying to do all of those things at once has put me a little behind. I only have one or two shows for October. There was one month where I did 35 shows, but that was when I had my own spot [Gold Bar]. Being back to not having one specific spot, it'll probably be five to 10 a month.
What were some of the reactions you got when you first started booking, and what's your feedback like now?
Being a woman, you get this mansplain-y kind of, "You know, when you book shows, you're really supposed to do this." Dude, there's no template. I won a Best of Baltimore for booking in 2012, and I won [Best Festival] for Ladyfest this year. And both times, I instantly checked Facebook and saw people talking about how much I did not deserve to win. Which is incredible, because every single dude that I've seen, regardless of whether they deserve it or not, don't get that. There's something about women really wanting to do something, and wanting to be good at it. I'm not just interested in doing something, I'm interested in doing it really well. And some people can't deal with it.
You want to set a precedent for people in this business, not just women in this business.
Yes. It's about the idea that you can do something interesting and different and skillful, and you can incorporate your gender but at the end of the day, that's not what it's all about.