Jonathan Howard describes "Window You" — a new song from his band Cigarette — as the "psychological and chemical workings in and around a kiss."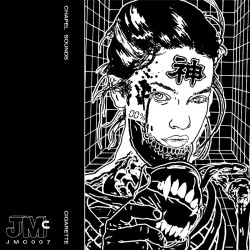 The song (listen below) comes from the D.C.-area slocore band's latest release, Chapel Sounds. It's part of Organechs, a series made up of six mini-albums from other musicians — mostly from New York — and compiled by music publisher JMC Aggregate. The tapes are tied together with a visual piece: an illustration of a girl morphing into some sort of demonic corpse, or vice versa. A panel of the girl's transformation covers each tape.
"Window You" lingers on sleepy legs. Howard, 25, describes it in terms of a kiss, but it feels more like the musical equivalent of Ambien.
There are a lot of different types of kisses, so perhaps the band was going for one of those half-awake embraces that happens right between midnight and first light. It lacks urgency or fire, opting to rest on agreeable melodies and gentle yet incoherent singing that melts into the guitar lines.
Asked about the origins of the band's ideas, Howard and his bandmates say, "Listen to the snow fall between your God and mine." (Likely a reference to Galaxie 500. Correction: Make that Yoko Ono. These kids are older souls than we thought.)
That's exactly what "Window You" feels like: mundane and expected, but pleasant. It's nothing to fight against — but also nothing to fight for.