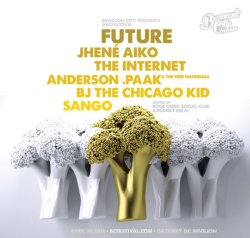 The smoothie enthusiasts of L.A. "organic lifestyle" group Broccoli City brought their first music festival to D.C. in 2013. It began somewhat modestly, with performances from rapper Big K.R.I.T. and a solid lineup of locals. But today, Broccoli City announced its 2016 schedule, and it's much grander than years past.
Atlanta rapper Future, whose druggy, heavy-lidded tracks dominated mainstream hip-hop in 2015, tops the bill at this year's fest. The event takes place April 30 at Gateway D.C. Pavilion.
Future will be preceded by sateen R&B vocalist Jhené Aiko, who broke out in 2013 with Souled Out. Odd Future affiliates The Internet also made the lineup, along with eclectic Dr. Dre associate Anderson .Paak, Motown signee BJ the Chicago Kid and Soulection producer Sango.
Tickets for the fest go on sale Friday on Broccoli City's website, and they're free in exchange for community service. See photos from Broccoli City's 2014 and 2015 editions here on Bandwidth.