There's something about Richmond, Virginia, duo Lobo Marino that inspires electronic musicians.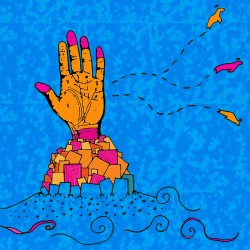 "Whenever we have played with DJs or electronic artists, they have expressed interest in remixing [us], or hearing our music remixed," says Lobo Marino's Jameson Price, 31.
It could be because We Hear the Ocean (stream it below), the album Lobo Marino released on D.C. label Bad Friend Records in May, is built on chants and harmonium drones. Their spacious compositions leave ample room for reinterpretation. A remix project just seemed to make sense.
"We come from the folk tradition of music, and part of the folk tradition is having your songs live past you and be transferred to other people," says Sullivan, 30.
Sullivan's bandmate hopped aboard. "There's already this putting it in other people's hands when you're doing any kind of album," Price says. "This is just taking it to the next level."
So Lobo Marino commissioned a remix album, out today on Bad Friend (stream it below). To do it, they recruited folks they had played with in the past. One of the first people they turned to was Ryan Bowman, who performs under the name DJ Gon.
Bowman's remix of "We Hear The Ocean, Lift Up The Mountain" is a reverb-heavy drone set to a throbbing beat. His take on the track is undeniably a step away from the source material, but he maintains some its key themes.
"The chorus is this sort of mystical protest imagery that we kind of intended to put in it," Sullivan says. "The idea is that we're hearing the ocean asking for us to clean the waterways that come from the mountain."
To mesh with that, Bowman incorporated sounds that call to mind water and mountains.
"All the samples are all organic sounds from the river, or from wells, as well as some ocean sounds," says the DJ, 26. "The name of the song also really motivated me to try and use crumbling sounds to symbolize the mountain."
Price sounds pleased with the results.
"A lot of people say that a song has a spirit," he says, "and this really turned into 'our song.'"