"I've lived a lot of places," says musician Shannon Carey, "and I keep looking for the one that feels like home."
That could be partly why Sandcastle Man, the forthcoming EP from Carey's atmospheric group Luray, sounds so exploratory. Its concept is inspired by someone drummer C.J. Wolfe encountered on a trip to South Africa: a man who made his living building sandcastles and posing for photos with them.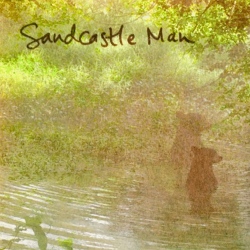 Carey wrote lyrics to accompany Wolfe's music for the song. She says it's a fable about finding one's way back home while facing trials, and describes the work as a metaphor for her own journey from her native Wisconsin.
"I know I can always go back to real home," Carey says, "but there's the part of you that wants to see the world and be an adventurer while also trying to find where you fit in."
A former D.C. resident who now lives in Richmond, Virginia, the singer and banjo player debuted in 2013 with a serene release called The Wilder. Her second full-length, out in 2016, promises to chart new emotional territory in the aftermath of her breakup with her husband.
"The first record was more about trying to find myself as a creative person," Carey says, "and [the next] one is more about relationships."
Since her first album, Carey has built a new set of important relationships — with the people now in her band. She says she met Wolfe halfway through his music studies at Virginia Commonwealth University, and became acquainted with bassist Brian Cruse and guitarist Scott Burton through Bon Iver trombonist Reggie Pace. (Carey's brother Sean also plays in Bon Iver.) They bring fresh elements to her sound, including notes of jazz and the mbira, an African finger piano Wolfe brought back from his travels.
Carey's family members and friends contributed to her first album, but she wanted to find musicians to play the songs live with her.
"I still write the songs, but they do all of the instrumentation," Carey says. "I bring a song a practice or send it to them and they write their parts and then we all work on it together."
Recorded at D.C.'s Rock & Roll Hotel, the EP — out Nov. 17 — includes a "space-agey" remix of the single, courtesy of Snow Panda. (Stream the remix below.)
"The whole thing sounds really trippy, but really interesting," Carey says of the remix. "We told Snow Panda to have total freedom with the strong and do what he thought sounded cool. It's really different from what we normally do, but really fun. Kind of whimsical."
Luray performs Nov. 8 at 2206 1st St. NW in D.C.