With another D.C. arts facility losing the battle against gentrification, about 100 artists packed a hearing Monday night to protest its pending transformation.
The building known as Union Arts is being converted into a boutique hotel, and all of its occupants — including artists, musicians and various small companies — must vacate by Sept. 1.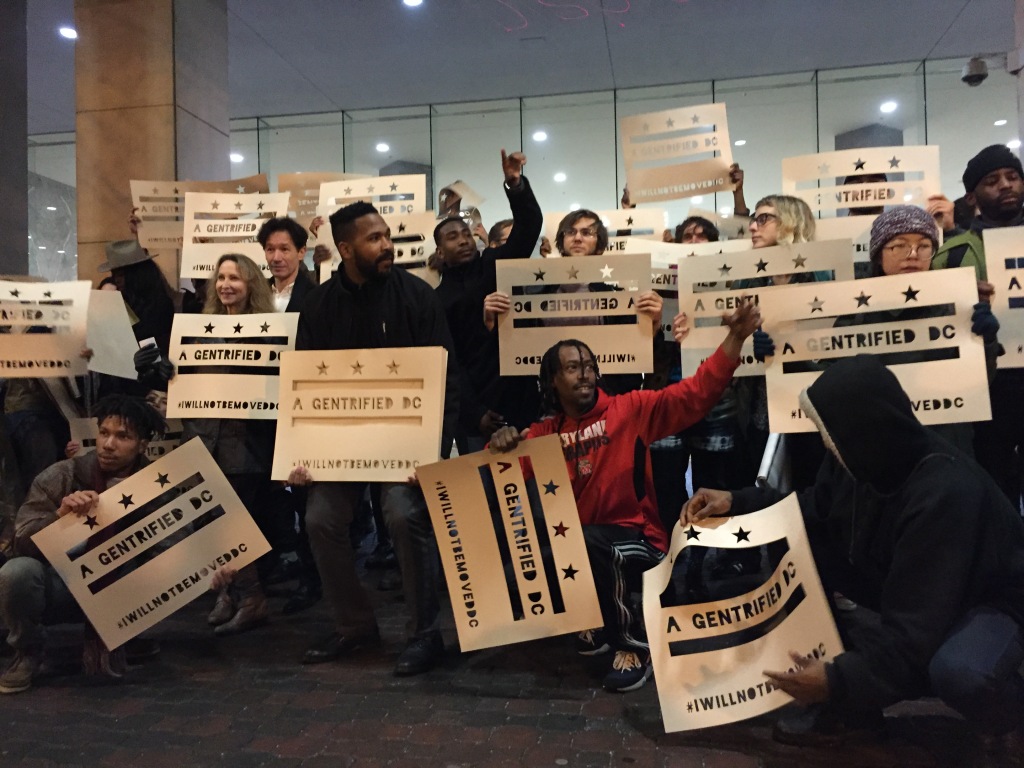 Demonstrators outside the D.C. Zoning Office Monday night (James Doubek/WAMU)
The four-story structure at 411 New York Ave. NE has served as a practice space, studio and venue for musicians and artists since 2013. Under previous management, it regularly hosted all-night events under the name Warehouse Loft. Because of its location in a sparsely populated manufacturing district, Union Arts offers a perk that's hard to come by in D.C.: lax noise restrictions.
Artists say losing Union Arts deals a blow to a creative community already diminished by widespread gentrification. "The content and culture that comes out of this space is something that happens nowhere else in the city," says Graham Boyle, one of the founders of 2B Artist Studios in the building.
Luke Stewart, who co-founded Union Arts and manages its studios, estimates that between 70 and 100 artists use the spaces on New York Avenue, but he says they move in and out frequently. (Disclosure: Stewart and I previously worked together.) Five rooms in the building are used for bands to practice, he says, and other tenants have included vintage shop Nomad Yard, a motorcycle repair shop, a church, a furniture company, a bikeshare company and a contracting company.
In June 2015, the building was sold for $7 million to 411 New York Avenue Holdings, LLC, which comprises D.B. Lee Development, Inc. Construction and Brook Rose Development, LLC. The two developers submitted a joint application to the D.C. zoning commission last summer, outlining plans to redevelop the site as an 11-story hotel with up to 178 rooms.
Planners hope to create a "high end, unique boutique hotel option" that will "provide desperately needed art studio and gallery space for local residents and students of Gallaudet University," according to the proposal. A restaurant is planned for the ground floor, with a combined restaurant and gallery space on the 11th floor, as well as a rooftop pool and bar. Developers say it will create between 75 and 100 new jobs and, ideally, spur more development in the area.
"It supports the city's comprehensive plan with the development in the Union Market area," says Dennis Lee, president of D.B. Lee Development. Lee says food and beverage options that are open to the public will help make the facility more of a "community hotel." He expects it will serve as a "strong bridge" between the adjacent neighborhoods of Ivy City, Union Market, Gallaudet University and NoMa.
Given the building's history as an arts space, developers have tried to heavily incorporate the arts into the hotel project. Their plans call for eight art studios, an art classroom, rooftop gallery spaces, a sculpture terrace and "art displays throughout." CulturalDC, the nonprofit and consulting group that owns Flashpoint Gallery and the Source theater, will partner with the developers to manage the arts components of the building. The group says the second and 11th floors will mostly be dedicated to artistic use.
Lee says the building's planned arts spaces will help create "a center for all arts to come together." He adds, "It's a pretty unique program that we've put together. We don't think there's anything like it in the whole country."
A new website devoted to the project details plans for the arts studios. A maximum of 20 artists will get access to them, and their cost will be subsidized up to 60 percent. Lee says subsidies could put the cost at $20 per square foot in some areas. There will be an open call for studio tenants, and CulturalDC will facilitate a panel of five to seven "artists, community members, local business owners" and others to make selections. Every type of artist will be considered, including musicians, says CulturalDC's communications manager, John Richards.
Lee adds that existing artist residents in the building will be given some preference over other applicants. He also cites different numbers than Stewart, saying the actual number of artists who pay to be in the current building is fewer than 30. He says the estimate of 100 occupants includes visitors and contributors.
Speaking before the zoning commission Monday, many artists said they see the project as displacing art rather than strengthening it. Developers say 3,000 square feet of the new building will be dedicated to art, but artists say that's not enough.
Musicians especially are nervous about the hotel project, and some say they will have no place in the plan, despite assurances.
"Playing music is very loud, and it's going to be very disruptive to hotel guests, so musicians will definitely be pushed out of this," said Katie Alice Greer of the band Priests, speaking before the zoning commission Monday. "There really aren't any other places like this," she said.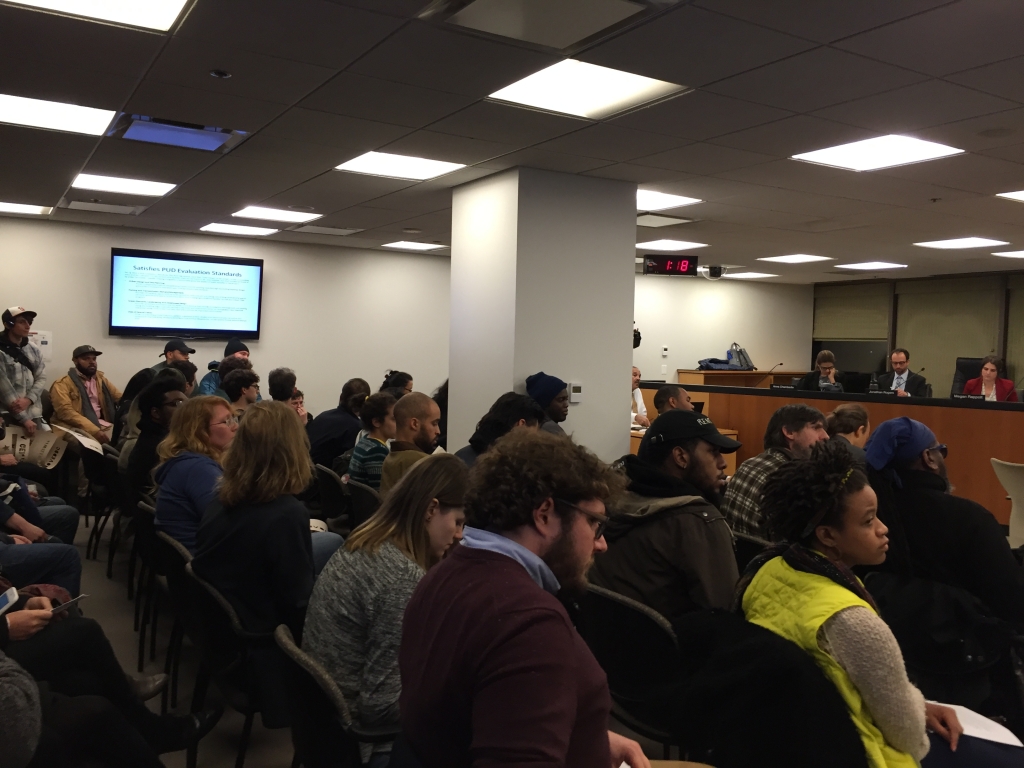 A crowded room during Monday night's hearing on Union Arts (James Doubek/WAMU)
But while artists are riled up about Union Arts' demise, the new owners' commitment to maintaining some art studio space may have been the least-bad outcome for 411 New York Ave. NE.
The building had been on the market for more than three years, says Gail Harris, the managing member of the LLC that owned the building until last summer. She says the cost of property taxes had become unsustainable.
"Everyone was paying way under market rate for rent," Harris says. The rent paid by tenants, she adds, could not cover $70,000 in annual property taxes. The Harris family's LLC purchased the building for just above $1 million in 2007, public records show.
Stewart says Harris was "very, very supportive" of the music and art going on in the building, but it became "a headache for her."
Mike Abrams, an artist who founded Union Arts in 2013, says the building's fortunes could be worse. He suggests that the hybrid arts/hotel space may become a model for other developers.
"At least they are considering what they are doing," Abrams says. "Yes, they are displacing an entire studio building, and they bought the building and that's their right to do what they want. So to be able to include artists as part of their project, I think that's a really tremendous first step, to be able to get other developers to see that, to see how it works, see that it can be successful."
But Abrams expresses concern about the big picture. He says he'd like to see D.C. take a more serious approach to creating live and work spaces for artists, possibly with city-owned property.
"For photographers, for sculptors, for painters, for musicians, for all types of creatives," Abrams says. "If you share one building, you start to really create a dynamic center, which is what's missing in D.C."
Artists attributed the big turnout Monday night to general anxieties about the city's future.
"Our fight today is not necessarily with the developers," said Gaje Jones, who runs MOUSAi House, an art and music space within Union Arts. "Our fight today is actually with the city. Because the city, in the planning department, are actually the ones who are allowing these companies to come in and to take over places like Union Arts."
Graham Boyle added, "It's very symbolic of the bigger issue of gentrification that's happening in the city."
The zoning commission will have another public hearing on the project Feb. 23 at 6:30 p.m.