After being together five years, Afropop band Elikeh had reached an impasse.
The group had creative differences, says frontman Massama Dogo. "Other guys in the band wanted to do more of a Fela [Kuti] thing," he says, referring to the Nigerian Afrobeat star. But Dogo wanted to play bouncier rhythms from Togo, his native country.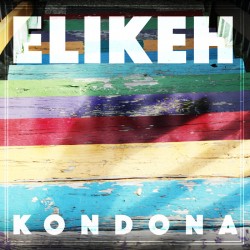 Plus, everybody in the band was sick of playing small venues. "If we could play bigger clubs," Dogo says, "it would give the band and the fans more energy."
The band duked it out in a tense meeting earlier this year. By its end, a surprising thing had happened: Elikeh had written a new song.
That track is called "The Conversation," and it opens Elikeh's new EP, Kondona, out Nov. 20 on Ropeadope. Friday, the group celebrates its release at D.C.'s Rock & Roll Hotel.
Dogo may be unenthused about playing yet another intimate venue, but if he is, he doesn't let on. He says the group is taking other steps to keep their mojo working.
"What we want do now is to focus more on the style of the music than what we are talking about," he says.
That's a big step for a songwriter whose lyrics — often in the Togo languages Ewe and Mina, but occasionally in French and English — have tackled substantive issues in the past. The son of a government minister, Dogo has warbled about political corruption and the late South African leader Nelson Mandela.
Elikeh is a multinational band that includes a Nigerian lead guitarist, a Ghanaian percussionist and a bassist, keyboardist, drummer and horn players from the U.S. The group started as a solo project for Dogo, who came to D.C. in 2000 and recruited local players to record Nyade, his first album as Elikeh. Elikeh became a true band later on, releasing Adje!Adje! in 2010 and following up with Between Two Worlds in 2012.
Stylistically, the group skews old-school: It draws from '60s and '70s West African rhythms including Togolese agbadja and kamou, Ghanaian highlife and Nigerian Afrobeat tinged with jazz and funk. Their slightly throwback style doesn't woo many young African immigrants in the D.C. region, who dance to Auto-Tuned African pop at clubs like Fire Station 1.
"Some people do listen to that kind and us, but most of them do not," Dogo says. "It goes with style. They don't dress traditional African. We are a band who uses African cultural stuff and mixes it with who we are."
Elikeh's new material has a strong basis in Togolese culture. Kondona is named after a Togo initiation ceremony that welcomes young men into the adult part of the community. Dogo attended one in his home village this summer. While crafting the EP at House of Jam recording studio in Beltsville, Maryland, he also incorporated sounds from that ceremony, as well as drumming from percussionists he'd recorded back home.
"We kind of produce ourselves. We don't have an engineer here who is familiar with agbadja Togo music, and that is the direction we want to go now," Dogo says.
Dogo thinks that Elikeh has taken steps that will expand its audience as the group prepares to release a full-length on Ropeadope next year. He says that featuring Malian musician Vieux Farka Touré and Furthur guitarist John Kadlecik on Elikeh's 2012 record helped them reach new people. The group also aims to find an agent who can help book gigs in new places — something other than small rock clubs.
"We have the dedication to doing the grassroots thing," he says, "but if you do it too long, that's where the frustration comes in."
It seems like Elikeh's near-breakup helped Dogo and his bandmates in the long run. But on "The Conversation," the band tells the story of its turning point with music, not words.
"We didn't think lyrics could represent what happened that day," says Dogo, "so we thought about having a horn and a trumpet express that."
Elikeh plays an EP release show Nov. 6 at Rock & Roll Hotel.